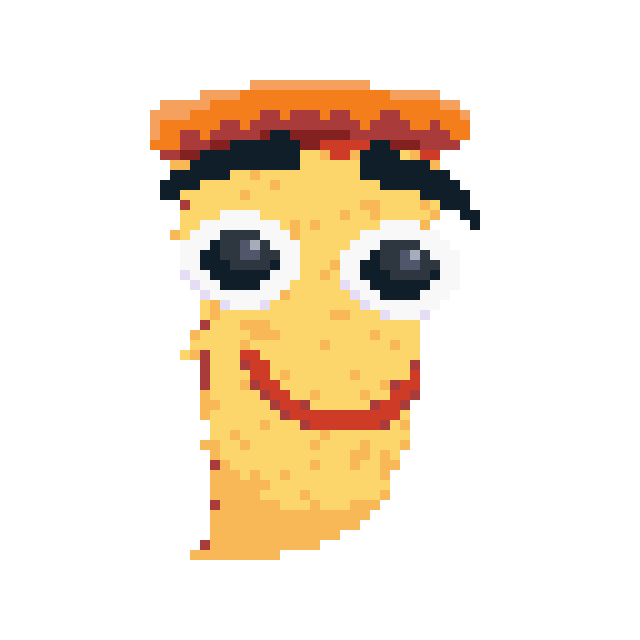 What's up gamers, it's a new year so I wanted to give an update on what I've been up to since Cloud Bashers Day and the Last Slice Demo release, and what I'm planning for this year.
Last Slice
I've been pretty heads down with Last Slice. We've gotten a LOT done in the time between the September demo and now. Either this or next month, we'll have a new demo that'll have Section 1 (Levels 1-5) with a lot of updated stuff, and better performance on browser for Newgrounds. A big thing I'll start showing off on Twitter (but will not be in the demo) is the party mode, where you fight amongst 2-6 players to eat the last slice of pizza. But each round, a new topping is added to the pie, making the game more chaotic the longer it lasts.
Another big thing we've been working on that you won't see for a bit is Section 2 (Levels 6-10), which we're almost done with! Section 1 is about recruiting your team to sell pizza, so Section 2 is about doing deliveries and the burger boys that do not appreciate you selling pizza illegally. With these things getting wrapped up, we'll soon be pitching to publishers again, and if we get a deal, we'll be happy to make a fully fleshed out slapper of a game. If we don't, then we'll release the game with less content (only Section 1 and 2, instead of all 4 planned sections).
We do have an idea of what game we'll do next, but I can't tell ya that until way more things happen...
Super Raft Boat Humble Bundle
If you haven't heard, Super Raft Boat is in a humble bundle (https://www.humblebundle.com/software/gamemaker-studio-2-software) with other games made in GameMaker Studio 2! The source code for the game is also in it, and subscriptions for GameMaker, but there's only 2 DAYS LEFT, so grab one before they're gone if you want!
2022
Honestly, it's so hard for me to visualize what this year will be like. I mean, I didn't think I would make Super Raft Boat, Cloud Bashers DX, or Digi Fighters last year. I'd like to learn more Unreal this year, I made one game last year, and I wanna keep going. Making 3D games is still kinda weird to me, but I just gotta do more of it and get used to it. I was trying to avoid side projects and game jams while I worked on Slice, but I might be approaching a new pocket of free time in the coming months, so I hope I learn something or make something cool! I should be getting the Playdate, Pocket, and Steam Deck this year, so I'm sure I'll keep myself busy making stuff.
One Piece Gushing
This year is gonna be amazing! We got chapter and episode 1000 last year, and this year Wano is probably gonna end, and we get the new movie with Shanks! Tonight we get the new opening in the anime! Every week I think about the new chapter, and how we're so close yet so far from the ending of the whole thing, and how this arc can still go so many directions even after Luffy's big fight is over. During the winter steam sales, I got a lot of games, one of them was One Piece: Pirate Warriors 4, which has been super fun to casually destroy people. My favorite character so far is Oden cause he's broken and looks cool with all the lightning haki he has, but I still have to unlock and try out everyone. I'm also hyped for the new Dragon Ball movie, and the new arc that'll start in the manga this year!
Bash some clouds, eat some pizza, and have a good one.